Manchester City will earn the most of any Premier League club from their players' World Cup performances.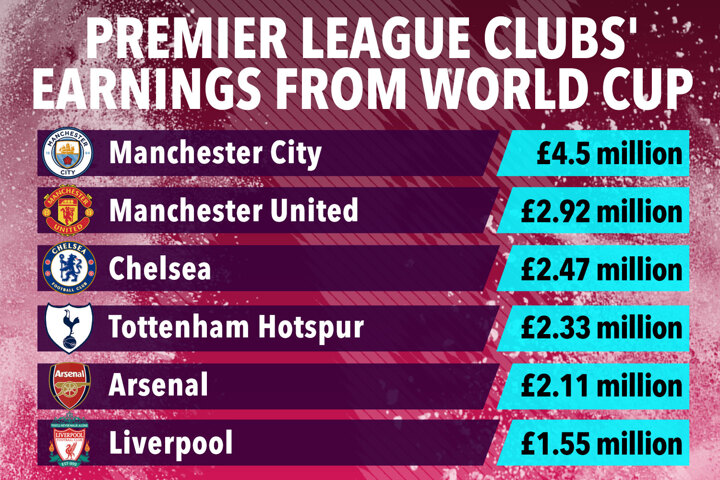 Fifa have a payment scheme called the Club Benefits Programme, which means clubs earn £8,100 for each day one of their players has been in the tournament.
It also accounts for the week-long preparation period before the games got underway in Qatar.
Man City had 17 players that went to the World Cup and are set to be rewarded with £4. 4.5 million
Argentine forward Julian Alvarez is responsible for the most significant percentage as he has reached the final – each club receives around £297,000 for every player involved.
The sums of money gradually decrease the earlier a player exits the competition – roughly working out to £257,000 for the semis, £225,000 for the quarters, £177,000 for the last 16 and £144,000 for the group stage.
The payments are made regardless of whether the players made appearances for their country in the tournament.
So the £297,000 Alvarez is set to earn, City would still have been there having Argentina reached the final without him playing a single minute.
As it's turned out, he has scored four goals and remains in contention for the Golden Boot – heading into the France clash one behind Lionel Messi and Kylian Mbappe.
Other City players at the tournament include Kyle Walker, John Stones, Ederson, Phil Foden, Kevin de Bruyne, Jack Grealish and Bernardo Silva.
Rival Premier League clubs will earn significant amounts from their players at the World Cup.